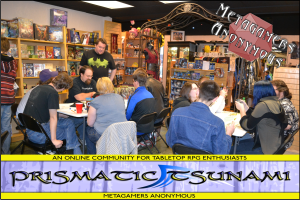 Today is International Tabletop Day, an event designed by Geek and Sundry to bring tabletop gaming enthusiasts together across the  nation and around the world in celebration of our unique and extraordinary hobby.  Our community is joining the celebration, of course, by hosting a Tsunami GameDay event at our hometown FLGS.  Even now, I'm finishing up badges and promotional materials and getting ready to load the audio gear into the car for our live podcast this evening at the store.  But I wanted to take a few short minutes to update everyone on the pace of things to come for TsunamiCon 2015.
First of all, discount VIG tickets are still available, as are our pre-Kickstarter vendor discounts.  I have decided to keep the sale going through end of the month.  On May 1st, these discounts will no longer be available.  So if you want to grab a VIG ticket at an amazing discount, now is the time.  Similarly, the 10% savings on vendor packages will no longer be available after month's end.
The reason for the sale is to collect as much money as possible prior to the launch of our Kickstarter campaign, which goes live on May 5th.  Every dollar we collect between now and then helps drive down our Kickstarter goal and improve the likelihood of success.  We had a fantastic first year event, and we look forward to blowing the doors off again this year with an even bigger and better program.  We need the Kickstarter to help make that happen, and buying in now helps ensure our victory.  And, you know… discounts.
If you're in Wichita this weekend, I encourage you to drop by the Burrow this afternoon or this evening and say hi.  We'll be taping some testimonial footage for our Kickstarter campaign, so we'd love it if you took a couple minutes to tell us what you love about TsunamiCon or what you're looking forward to at this year's event.  I look forward to seeing you!
Wherever you are, get out today and play some games!  Game stores the world over are joining the fun, so you're pretty likely to find something nearby…  Check the Tabletop Day listings for your home town on their website.  And be sure to tell people about TsunamiCon!
Have a great day!