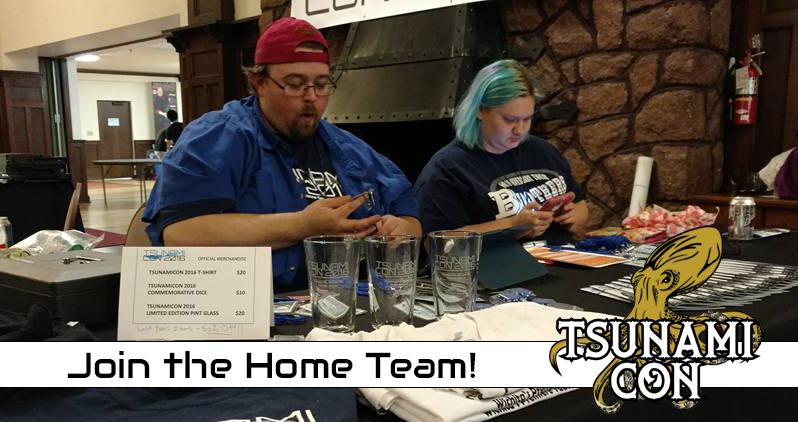 With any convention – but particularly with a home-grown, grass roots con like TsunamiCon – volunteers are the life blood of the event.  It's the volunteers who help run events, direct traffic, take tickets, answer questions, and help us keep an eye out for attendees in need.  TsunamiCon needs volunteers for various stations throughout the weekend, and we can help divide your time to help you get the most enjoyment out of the convention!
Volunteers must be at least 14 years of age and, unless you make special arrangements with our coordinating staff, may be employed for services as needed.
Volunteers earn credit toward discounts on TsunamiCon badges. Volunteers must agree to the terms of service and submit an application. The required commitment for each discount is as follows:
4 HOURS – $10 discount on any one badge
8 HOURS – $20 discount on any one badge
12 HOURS – Free Weekend Pass (or $45 off a VIG Pass)
To volunteer after the Kickstarter campaign is complete, select your badge and apply the appropriate discount listed on the checkout page. Then, review the available shifts and complete the application.
If you have any questions, contact us at info@tsunamicon.org.
---
Volunteer Policies ______________________
Anyone interested in volunteering for TsunamiCon must be aware of the following policies. Please read them carefully and contact us at volunteers@tsunamicon.org if you have any questions.
Volunteers must be a minimum of 14 years of age. All Minors must provide TsunamiCon with a signed Parental Consent, Medical Waiver and Indemnity Agreement. Minors will only be allowed to work up to (6) hours a day.
All volunteers must wear their TsunamiCon badge while working/attending events at the convention.
All volunteers should wear appropriate clothing and footwear. Please refrain from wearing torn or dirty clothing or open-toed shoes. Comfortable walking shoes are best.
Children are not allowed to accompany a volunteer during their shift.
We ask all volunteers to act in the best interest of TsunamiCon by respecting attendees, fellow volunteers and staff, as well as promoting a safe and healthy environment.
Volunteers must refrain from any deliberate acts that may create a dangerous or unhealthy situation during TsunamiCon. This includes, but is not limited to, the use of illegal drugs, excessive consumption of alcoholic beverages and assaulting, threatening or disregarding the safety of an individual. If you know of anyone who is exhibiting dangerous or risky behavior, please report to TsunamiCon staff or security immediately.
Volunteers are not permitted to use their volunteer status to promote or conduct personal business. Anyone caught doing so will be escorted off the premises and have their badge revoked WITHOUT refund.
Volunteers should not use their volunteer status to engage exhibitors, sponsors, vendors, or hotel personnel to gain access to special deals or treatment.
Volunteers are responsible for making their own housing and travel arrangements.
There are a limited number of volunteer positions available, and applications will be processed on a case-by-case basis.