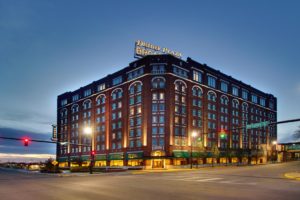 TsunamiCon 2022 is located at the Drury Plaza Hotel Broadview. Inside, the fresh contemporary furnishings create the perfect environment to enjoy Drury's free extras. Begin the day with the free hot breakfast and ending it with the 5:30 Kickback. Located in Downtown Wichita, adjacent to the Century II Performing Arts & Convention Center, the Drury is situated along the banks of the Arkansas River with a beautifully landscaped river walk and convenient Q-Line Free Trolley stop located right out the front door.
For Hotel Accommodations:
Location: 400 W Douglas Ave, Wichita KS 67202
Website: www.DruryHotels.com | Phone: 1-800-325-0720
**Guaranteed group rate is now expired, but rooms are still available at this time.**
Reservation will include the following for overnight guests:
Complimentary Hot Breakfast: Start every day with make-your-own Belgian waffles, scrambled eggs, sausage, fresh fruit, oatmeal, biscuits and gravy, KELSO+BROS® coffee and more. Complimentary hot breakfast is served daily from 6:00 a.m. – 9:30 a.m. on weekdays and 7:00 a.m. – 10:00 a.m. on weekends.
Complimentary Evening Drinks and Snacks: Join us from 5:30 p.m. – 7:00 p.m. every evening to enjoy complimentary hot food and cold beverages at our 5:30 Kickback®. The Hotel features a rotating menu of hot food, beer, wine, mixed drinks and soft drinks.
Complimentary Wi-Fi Throughout the Hotel: Get the score, check social networks or email family
members in the hotel!
On-Site Facilities: Take advantage of the business center, fitness center or pool while away from
home. Print boarding passes, finish a presentation or check e-mail in the Hotel's business centers.
Parking: On-site covered overnight parking is available at a charge of $10.00 per parking spot per day.