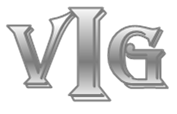 When we were trying to come up rewards last year to help offer our community uber-fans a way to show their support and get more out of the con, I came across the idea of providing a VIP ticket that comes with some swag and special perks.  The reason was two-fold… One (1), we wanted to engage people who were super-excited about the convention and give them a chance to really show it.  And two (2), we needed a way to bring in extra money up front and offer a suitably powerful reward for our devoted Kickstarter backers.  We offered a full suite of convention swag, including a handmade item that was only offered to VIGs, and a specially-stocked lounge where they could retreat from the craziness of the con and relax for a bit, socialize with their fellow VIGs and convention guests, and grab the occasional snack or soda.  For most of our VIGs at last year's convention, I heard nothing but praise, well-worth the cost.
Bringing back the VIG program was a no-brainer.  This year we're at a new location, and the cost of running the con is a little higher across the board.  VIGs will be only marginally more expensive than last year – we're certainly not trying to soak our most ardent supporters for additional cash – but we're also upping the game.  VIGs still get a three-day pass and the same great swag: this year's T-shirt, commemorative dice, a unique gift or two, and anything else we can come up with to add to the mix.  But this year's lounge will actually be a hospitality suite in one of the hotel's Executive Lofts on the top floor, just an elevator ride away from the action.  (They've been remodeling, so I haven't had a chance to look in on the updated suite, but as soon as I do I'll post some pics.)
We still offer two great VIG packages.  Our Silver-level VIGs get everything I've already mentioned.  For a bit more, we also offer a limited number of Gold-level VIG tickets, which include access to a special gaming event on Sunday afternoon and dinner that evening with TsunamiCon guests, management staff, and the cast of Metagamers Anonymous.
Best of all, this is the perfect time to take advantage of the program.  Our Silver-level VIG packages are currently available for just $60 (normally $75), which is a ridiculous value.  And our Gold-level VIG is currently only $100 (normally $125).
You can do the math.
Why the deep discounts?  Because right now is when the money matters most.  We'll be launching our Kickstarter campaign around the end of April, at which point the prices will go up, and the more money we have in the bank prior to launch, the lower our Kickstarter goal can be.  Which I don't mind telling you is a huge deal.  We want more than anything to be able to provide a fun and successful convention worthy of our community, with plenty of gaming, entertainment and events, tournaments, activities, and so on.  It's a big undertaking… and it's expensive.
So help us get the ball rolling on TsunamiCon 2015 and pick up your VIG ticket today!  We'll make it worth your while…