TsunamiCon 2015 is fast approaching! You're ready for 3 solid days of gaming goodness this October, so how do you get started? Let's start with the basics: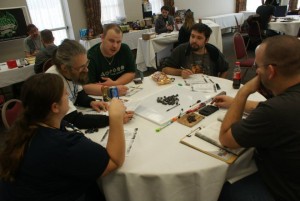 We will assume you already know what TsunamiCon is: a three-day convention that provides attendees with the best variety and highest caliber tabletop gaming entertainment Wichita can offer, with demos, tournaments, and gaming experiences to serve the needs of hard-core hobbyists and amateur gamers alike. We expand on this core product with related activities and entertainment, including cosplay contests, miniature painting, live geek comedy, and so much more.
If you need to know more, you should definitely poke around the website and see what the convention is all about.  In the next couple weeks, you'll start to see new gaming and event schedules appear, with tournaments, demos, organized play, casual gaming, panels, cosplay, LARPs, and more!  If you want to run some games, all the better!  You can submit your game now on our Submissions page.  Note:  If you plan to run a couple games, you can get a nice price break on your weekend pass.
You can find the basics on our Registration page, including the hours of the con, links to buy tickets and reserve your hotel room, and a general rundown of what you can expect as a TsunamiCon attendee.  Finally, follow us on social media for regular updates.  Like us on Facebook or follow us on Twitter!  And if you have any questions, ideas, or suggestions, let us know!  It's your home town game con.