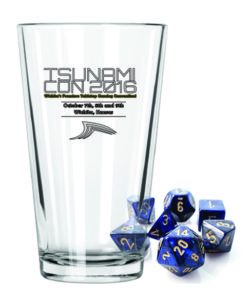 Every year, TsunamiCon offers a special selection of high-end tickets for attendees who want to show their support for the con and get the most out of the experience.  We call these packages VIG memberships, and they come with a few perks.  These tickets package together your basic weekend pass with our standard TsunamiCon swag, the T-shirt printed with this year's logo and sponsors and a commemorative dice puzzle emblazoned with our logo and the date, and we sweeten the deal with a dedicated "VIG Lounge" where attendees can relax, enjoy some provided refreshments throughout the day, or even get involved in some additional gaming with other VIGs away from the noise of the con.
The Silver Level VIG earns the aforementioned rewards.
The Gold Level VIG gets a few extras.  This year, we've added a commemorative TsunamiCon 2016 pint glass to the gold package, as well as a $5 token for the TsunamiCon Marketplace.  As a Gold-level member, you also gain access to an exclusive D&D adventure designed and run by TsunamiCon management staff.  This is an adventure that has yet to be published, and you will among the first victims intrepid heroes to give it a whirl.  We'll also buy you dinner after the con on Sunday evening, where you can hang out with TsunamiCon staff, special guests, and the cast of Metagamers Anonymous.
Because we order the swag and plan our exclusive games (and dinner!) based on volume, we have to limit the number of VIG tickets available.  We'll be reaching our critical mass very soon and can only offer them for a limited time, so get them now while you still can!