The engines are heating up! The crew is on standby and preliminary checks are underway! TsunamiCon 2017 is finally in our sights, and we're getting ready for a crushing victory! So run through the paces and start the count down with a few of our newest developments!
We Have the Games! This year's convention is a fantastic place to try out something new or enjoy some of your old favorites! With more than 90 GAMING EVENTS on the schedule already – and more to come! – and a GAME LIBRARY with more than 100 games you can check out and play to your heart's content, you'll find a plethora of exciting board games, card games, RPGs, LARP events, and more! Here's a few highlights: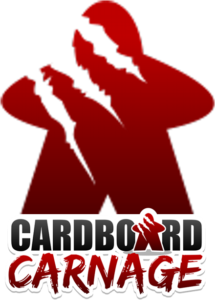 Cardboard Carnage returns this year with a full schedule of game demos featuring some of the latest and greatest industry hits! As of this weekend, their demo team has more than 30 games already on the schedule. You can register in advance to reserve a seat at the table, or stop by their table in the Great Hall during convention and check out what they have planned. Gregg and his team have years of dedicated experience teaching a variety of games to all kinds of gamers – from hardcore to casual – and provide a fun and accessible experience every time.
Cardboard Carnage and the Tabletop University program are community staples in our fair city. Check out their website for gaming podcasts, reviews, and the latest on events in and around the city of Wichita, and be sure to let them know how much you appreciate their hard work and determination as the spread the joy of our hobby to the masses!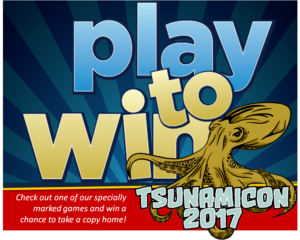 We're Giving Them Away! Every year we score a selection of games from publishers, designers, and retail outlets to give away to our attendees, and this year is no different! Several games in our Game Library are available as Play-To-Win selections. Just check out the game and give it a spin, then you and whoever else tried it out can enter to win a copy of the game during Closing Ceremonies on Sunday evening! Last year we gave away more than two dozen Play-To-Win prizes, and this year's selection includes some brand new titles and a few community favorites, with more to come!
Also, we'd like to offer a hearty congratulations to MATT T. and JOHN J. as this week's winners of our prize drawings for Kickstarter backers! Thank you so much for your support, and enjoy the games!
It's Time for a New Adventure! Some of our community Dungeon Masters made the trip to GEN*CON this year and returned with a special D&D Adventurers League exclusive adventure book, Lost Tales of Myth Drannor! This is your chance to take advantage of their good fortune and run your D&D Adventurers League PCs through some brand new material:
"Since the destruction of Myth Drannor by the Netherese of Thultanthar, the elves of Cormanthyr have grown silent. THe new First Lord of Hillsfar, Vuhm Yestral, has a tenuous hold on power and seeks to make allies of old enemies while exploiting the nearby forest resources. Heroes are needed to carry the First Lord's message into the Forest of Cormanthor and explore ruined Myth Drannor."
You can expect to see these games appear on the schedule within the next few days.
Game Masters! Time to Git 'R Done! If you want your game or panel listed in the event program, now is the time to get it submitted! In the next two weeks, we'll be finalizing the details for this year's beautiful, full-color program booklet, and we want to ensure that we have as complete a list of events as possible for our attendees to check out. If you have questions, don't hesitate to ask!
So pick up your badge today! Get your TsunamiCon badge either at The Burrow or on our website, and prepare yourself for the exciting voyage ahead. Them are rough waters on the horizon, and you can expect an adventure of epic proportions!