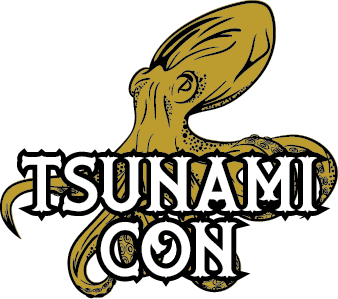 Badges are now available for TsunamiCon 2023! TsunamiCon is a 3-day event. Select a Day Pass or pick up a Weekend Pass for the entire con! Advance purchase gives you access to sign up for events ahead of the con when registration opens and makes you eligible to giveaways before and during the event.
Follow the link below to purchase your badge. You must create an account on TableTop Events and log in to make your selection.
You can also pre-order merchandise with your badge and we'll have it available to pick up at Will Call!
Weekend Pass (Friday, Saturday and Sunday):  $45
Day Pass (Friday):  $20
Day Pass (Saturday):  $25
Day Pass (Sunday):$20

V-I-G (silver):  $85
V-I-G (gold):  $135
This is your full weekend pass, a TsunamiCon 2023 T-shirt, commemorative dice, early access to game registration, and access to the VIG Lounge and exclusive gaming events. Gold VIGs (very important gamers) gain additional swag and have access to VIG Gold exclusive events and a Sunday night dinner with organizers and guests. VIG tickets are limited!