Each year we offer a robust area geared specifically toward gaming with the kids! We'll have a variety of games and activities available, a small library of kid-friendly games, kid-centric RPGs, tournaments, prizes, and more! Schedule to be determined. Here are a few of the highlights from last year: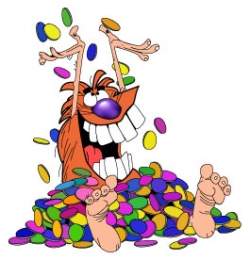 POG Tournament
POGs are back! You heard us right.. POGs! Why?! Because POGs! We're bringing back a little 90's nostalgia and sharing it with the little gamers at the Kids Zone, and you and your family can get in on the fun! Advance ticket holders can pick us a free stack of random TsunamiCon POGs at Will Call, and you can pass them to the kids, keep 'em, trade 'em, or start your own tournament action!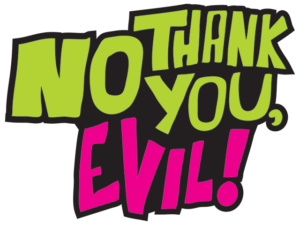 No Thank You, Evil!
Evil Doesn't Stand a Chance! No Thank You, Evil! is a tabletop game of creative make-believe, adventure, and storytelling. In No Thank You, Evil!, each player creates a character based on a couple of cool, descriptive, imagination-firing traits. The Guide (a special role often played by a parent or older sibling) presents a dilemma, and the players set off on an adventure of the imagination. Along the way they use their character's special skills, companions, and equipment to overcome obstacles. Maybe you'll rescue a friend from Dragonsnot Falls, save the world's biggest adventure park from an ancient curse, or fix Whizbang's broken time machine before it's too late! Whatever you choose, you're sure to solve mysteries, gain friends, confront bad guys, and have a wild adventure!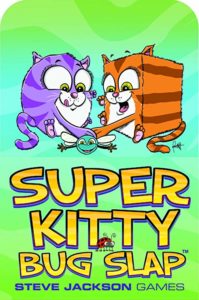 Super Kitty Bug Slap Tournaments
The fastest paws win!
Grab the coolest cats you can find for some bug-slappin' action in this a speedy card game of swift thinking and quick paws! Super Kitty Bug Slap is a fast-paced game that lets 3 to 5 players see who has the most skills. When the game ends, the quickest kitty with the most cards wins! Winners and runners up will win copies of the game, courtesy of Steve Jackson Games!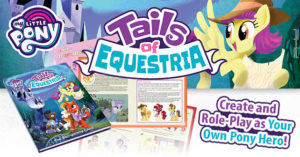 My Little Pony: Tails of Equestria!
My Little Pony: Tails of Equestria is a storytelling pen-and-paper game for two to six players. Create and role-play as a pony hero who explores and seeks adventure in the various lands of Equestria. Guided by a Game Master (GM), players adventure together and use the magic of friendship to overcome obstacles as they learn more about each other and the world around them.