With TsunamiCon 2019 happening a little more than a week from now, I feel like it's a good time to highlight some of the… er… highlights… of this year's event.

To start with, we have a nice selection of Dungeons & Dragons games on the schedule. Our current list of Adventurers League games are full – though it never hurts to get on the waiting list – but if D&D is your poison, there's plenty to go around. I'm also pleased to see about a dozen Savage Worlds games on the schedule, and they fill up fast. But there are definitely some other unique RPG experiences to which I'd like to draw your attention.
First, we've brought in veteran game designer Sean Patrick Fannon to show off his newest creation Prowlers & Paragons. He's running a series of missions during the con to showcase the rules, and this is an amazing opportunity to check out a game run by the designer. They're in series, but you can definitely jump in to any game you like to check it out. And I'm particularly excited about the Saturday night EPIC. I've watched Sean handle a group event like this with multiple tables, and it is an experience NOT to be missed!
Secondly, Danny Oliver is back with more Shadowrun Missions, this time bringing us a taste of the newest edition of the game! Just as exciting, in its own way, is Danny's Saturday night Red Dragon Inn ALL OUT BRAWL! There will be prizes. Oh yes… there WILL be prizes.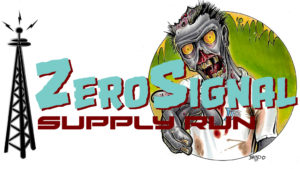 I also want to draw some attention to my very own Zero Signal: Supply Run Tournament on Friday afternoon. I published this game this year, and I'm very proud of it. It's quick, easy to learn, and a good one to share with the kids. For the tournament, I've put together a very special deluxe Tournament Kit – which we'll be giving away to the winner – and I'm looking forward to showcasing the expanded rules for tournament play. I'd love to see some folks come by, learn to play, and get in on the action. (It's that easy!)
Finally, I'd like to draw your attention to some unique RPG opportunities. On Friday night, Matt Harrop is running a game of Dread, the unusually tense horror system that uses a Jenga tower for challenge resolution. On Saturday afternoon, Rolando Gomez still has a few seats left for his Star Trek Adventures game, and you should consider joining Tadd for his PRAXIS: King of Storms scenario or Ben Burns for Zeta Complex: Man's Last Hope. And I can certainly recommend signing up for Kevin Pennington's Shadow of the Demon Lord offering on Sunday morning.
We have a lot to forward to, and plenty of seats left at the table. So sign up now! And we'll see you at the con!