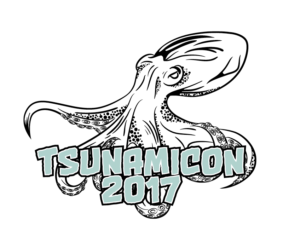 Yesterday afternoon at our Tsunami GameDay at the Burrow, a lovely geekworthy gift shop on the east side of town that hosts our quarterly and pulls out all the stops to make us feel at home, Liz and I posted a video via Facebook Live announcing the dates for TsunamiCon 2017.  We couldn't be more excited to be getting a chance to do this again, now launching our fourth consecutive year celebrating tabletop gaming here in America's heartland.
When and where?  TsunamiCon 2017 is happening October 6th, 7th and 8th.  As always, we'll be bringing you three days of gaming goodness with all the class and level of service you've come to expect.  And best of all, we've been invited back to the amazing Wichita Scottish Rite Center!  Ask anyone who attended last year's festivities… the venue was as immersive and powerful as the staff was wondrously committed to making sure everyone had a great time.
What will it cost?  We've worked hard to keep prices manageable, and I'm happy to say that we will not see any increase in ticket prices this year. Advance VIG tickets are now available.  You can expect to pay $40 at the door for a weekend pass, less if you pre-order tickets online or pick them up during our Kickstarter campaign.
Another Kickstarter?  Seriously?  Yes.  We take pride in bringing you a quality event at a great venue, and it's costly.  I am happy to say, however, that we are positioned better than we ever have been, and we will not need near the amount of money we tried to raise in previous years.  Be watching for the Kickstarter in March or April.  It's your chance to get the best price available on ticket packages, convention swag, vendor space, and advertising.  Every dollar goes to making the event great.
Fantastic!  What can I do now?  To start with, pick up your VIG ticket if you are so inclined.  Then spread the word.  Let the gamers in your life know that you're coming to TsunamiCon.  Get everyone on board.  The bigger and better the event, the more fun it will be for everyone involved, and the easier it will be to grow on in the years ahead.
Thanks for checking in.  And game on!