A few years ago, our convention was one of a handful of newly-minted localized gaming conventions popping up across the country that were being run – not by independently wealthy entrepreneurs who could afford to throw $10,000 into a black hole on a whim – but by ordinary folks living paycheck to paycheck who had a clever idea and a will to persevere.  We saw a hole in our local hobby community that we desperately wanted to fill, and we found an opportunity to fund our convention in an as-yet unconventional way.  We crowdsourced it.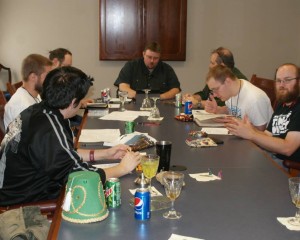 With a collective holding of breath, the local and regional gaming community took to Kickstarter to help fund our tabletop gaming convention here in Wichita, by purchasing tickets and swag ahead of time and providing us the necessary startup capital to make it work.  By the time November rolled around, we had a working model for a local gaming con and were ready to greet the masses.  And we were pleasantly surprised to find that our premiere event blew the doors off of our immediate expectations.  In fact, compared to many other Midwestern gaming cons that had launched in the previous handful of years, our first event was a virtual barnburner.
TsunamiCon is a tabletop gaming convention designed to provide local and regional casual and dedicated gamers alike to ruminate with like-minded folk and enjoy the labors of their hobby for three days straight.  Our management team is comprised largely of dedicated RPG enthusiasts, but we owe much of our success to a rabid enthusiasm from the local hobby boardgaming community, which had virtually exploded overnight in the previous two years.  Local game masters and demo teams brought a variety of gaming opportunities to the con, and we watched in awe as peoples young and old, from here in town and far away, streamed into the building over the course of the weekend and sat in on the fun.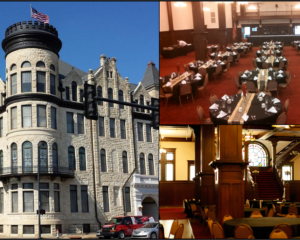 At TsunamiCon, it's easy to find gamers interested in sharing the joy of their favorite games.  Some involve elaborate tabletop displays, some little more than books and dice, some are played with cards or meeples, and some with little more than your imagination – we even have live action experiences that give you an opportunity to more fully immerse yourself in a role for a couple hours.  To round out the weekend, we'll have party games, live comedy entertainment, a diverse marketplace, fantastic on-site concessions, geeky panels and cosplay events, and more!  It's a way to step out of everyday life for a couple days and become drenched in the pomposity of fun and positive vibes.
To elevate the experience further in Year Three, we selected a venue that will take your breath away and leave your head spinning.  Join us this October 7th, 8th and 9th at the beautiful and historic Wichita Scottish Rite Center in downtown Wichita.  Advance discount tickets are available now.