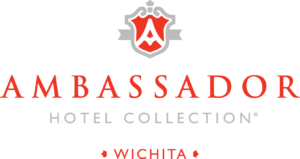 Our official housing block for this year's event is located at the Ambassador Hotel Wichita.  Located just a block south of the venue in downtown Wichita, the Ambassador represents the classiest hospitality Wichita has to offer. And what they are offering our attendees is an unbeatable $99/night room rate for TsunamiCon weekend. Be sure to book early to secure your reservation!
Visit the Ambassador Hotel Wichita website to book your room today.  The hotel is located at:
104 S Broadway
Wichita, KS 67202
Tel: 316-239-7100
Bookings made after the block is closed on 9/5/2017 are not guaranteed the convention group rate.