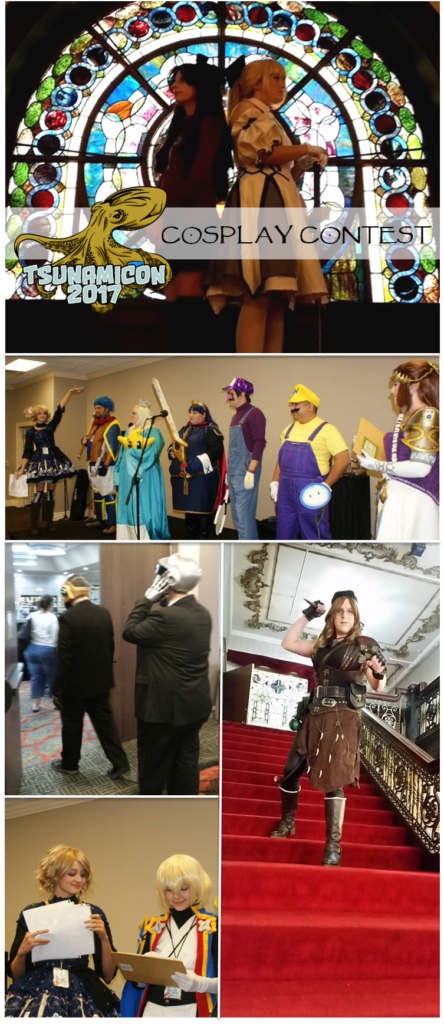 Join us for our annual TsunamiCon Cosplay Contest! The contest is on Saturday night in the Auditorium, wherein contestants have the opportunity to walk the stage and show off their craftsmanship. Contestants can enter in one of four divisions:
♦ Master: For competitors who have competed in previous events and won 2 or more awards
♦ Intermediate: For competitors who have competed in previous events and won 0 to 1 prizes
♦ Beginner: For competitors who have never competed and never won any awards for costumes
♦ Junior: For competitors 12 and under, who must be accompanied by an adult
Pre-registration is available using the form below or during the convention on Friday and Saturday at the registration table. All entries much be submitted by 2pm on Saturday.
Pre-judging is scheduled for Saturday, October 7th from 2pm to 4pm.
The Cosplay Contest is scheduled for Saturday, October 7th from 7pm to 9pm.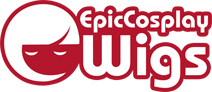 Cash and prizes are issued for winners and runners-up in each category. Rewards in every division will include a gift certificate from our sponsor Epic Cosplay Wigs!
For more information, contact our event coordinator at [email protected].
During the competition, the judges may have questions regarding your costume and its construction.  Judging criteria will be restricted specifically to the following details:
♦ Accuracy:  The costume's resemblance to the source material
♦ Presentation:  Overall look and attitude of the contestant
♦ Craftsmanship:  Use of materials and processes
♦ Difficulty/Uniqueness
Be prepared to submit a visual reference for the judges at registration.
---
Cosplay Contest Rules and Guidelines
You must have a valid TsunamiCon badge to enter the competition.
Pre-judging begins at 2pm in the Auditorium.

During this time, you will be provided approximately 5 minutes to present your cosplay.
Please bring a printed photo for reference.  Photos of the cosplay construction are encouraged, but not required.
Pre-judging will end at or before 5pm.

Stage Judging begins at 7pm in the Auditorium.

There is a limit of 40 entries for the stage show across all categories.
During the competition, you will be permitted up to 30 seconds to strike poses and present your cosplay to the judges.
The Juniors category will present first, followed by Beginners, Intermediate, and Masters.
You may be asked to say something your character would say, or to perform an appropriate pose or action on stage.
Everything brought onto the stage must be removed at the end of the allotted time.  Messy substances such as confetti, glitter, flower petals, and water are not allowed on stage.
Climbing onto the stage or leaping from the stage are prohibited.

Costumes from all genres (games, comics, anime, manga, scifi, video games, etc.) are welcome.
Offensive language and sexual humor is not permitted.  This is a PG-13 event.  Appropriateness of material is at the discretion of the cosplay coordinator and event staff.
Casual clothing will not qualify as a costume.  Contestants must be in costume attire for the duration of the event.
No Nudity. No costume is not a costume.  Costumes must provide at least as much body coverage as a bikini.  Body paint, latex, pasties, thongs, etc. are not considered adequate body coverage.
No Political or Religious Statements.  Violators may be disqualified and removed from the event.
No Projectiles.  No part of participation may include any sort of projectile.  Violators may be disqualified and removed from the event.
No Chemicals or Explosives.  This includes – but is not limited to – smoke powder, flash powder, fireworks, or sparklers.
All Prop Weapons Must Conform to Convention Policy.  All weapons must be non-functional and/or peace-bonded.  No functioning projectile weapons.  No Working Firearms or Stun Guns.  Blades must cased or sheathed at all times.  Any weapon used in an offensive manner will be confiscated.  Violators may be disqualified from any events or competitions and asked to leave the convention without refund.  Participants are expected to us good judgment and behave in a safe and courteous manner.
 Violators may be disqualified and removed from the event.
Applications Must Be Submitted On Time.  All relevant materials must be submitted for registration via the form listed below or during the posted hours; late entries will not be considered.  A physical application may be obtained at the registration table during the convention.
Costumes must be self-contained.  If you require assistance handling your costume on stage, we cannot guarantee accessible personnel to assist.  Please bring a handler if necessary.
Only One Entry.  Contestants may enter only one costume into the contest.
Cosplay Contest Registration