If you are interested in attending TsunamiCon as a exhibitor, we encourage you to visit our Vendor page and select one of our excellent vendor packages, which include advertising opportunities in the TsunamiCon event program. If you would like to purchase advertising in our program or sponsorship of one of our features or events, please fill out the application here. If you have questions, please contact our marketing department at [email protected].
Advertising and sponsorship opportunities include the following:
Table Sponsorship ($30)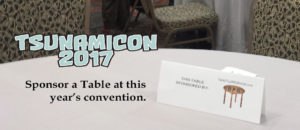 If you're interested in showing your support for a popular local event and put your brand in front of local geeks and gamers, consider a sponsoring a table at this year's convention. Your sponsorship will purchase your name and logo on one of the available tables in our primary gaming space, and the adoring love and appreciation of our attendees. It's a fun way to make yourself part of a great family event.
Sponsor: TsunamiCon Cosplay Contest ($175)
At TsunamiCon 2017, we will present our fourth annual Cosplay Contest, a fun and exciting event that attracts numerous participants and spectators to our convention. Your sponsorship money will be used to help provide prizes to our contest winners, and your name will be associated with the contest in our program, on our website, and at the con. Sponsorship of our Cosplay Contest is an excellent opportunity to have your business's name associated with one of our premiere events! Take advantage of this unique opportunity to part of something really fantastic!
Sponsor: Drunkards & Dragons ($175)
Drunkards & Dragons is a popular improv comedy show starring special guest Mikey Mason and other community friends. The show relies heavily on generous libation and audience participation and is a hit feature of our Saturday night entertainment lineup. As a sponsor, your name will be associated with the event and your money will help us pay for the event space and supplies for the show. We can also guarantee at least one toast in your honor.
For information regarding any of these sponsorship opportunities, or discuss other ways that you can help support the con, contact [email protected]. Opportunities are limited and will be available on a first-come, first-serve basis.